HOME PAGE BUY OLLIE OLLIE IN COME FREE! NOW AT:

~Reviews~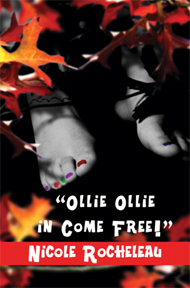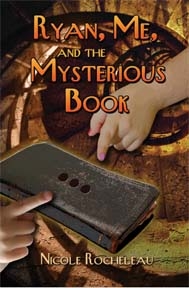 My first review for Ryan, Me, and the Mysterious Book! ~
It captivated me and I am not really sure why
, January 29, 2007
This is one of those books where once I started reading; I found it difficult to put down and completed it in a day. And then, once I was done, found it hard to state exactly why it kept my attention. My reading began when I mounted an exercise bike at the Y. Ordinarily; I go twenty minutes per session. However, I was so engrossed with the book that I went nearly thirty minutes, stopping only when my sit-down spot began seriously protesting.
The story is told from the perspective of two children, a boy and a girl (Emmy and Ryan) in seventh grade. They are the best of friends and have been since they met in elementary school. Most of the events in their lives are quite ordinary; they go to school, have homework and challenge their rivals at school.
The unusual happens when they follow Shoo, a woman that is apparently a live-in maid for Emmy's family. Shoo enters an unusual building and when they follow Emmy and Ryan encounter an unusual woman with strange books. They borrow one and it contains two stories, one that begins from the front and the other that begins from the back. After reading both, they cannot remember anything about them other than the fact that they read them and the sex of the main character in each. There are no great challenges, no evil monster to destroy, no slashing, and no black magic, only a few unusual and unexplainable circumstances. This aspect of the plot is never really resolved and while Emmy has both parents in her home, they are a parenthetical mention at best.
The other events in their lives are typical of the middle school child. Emmy sweats through her blouse when it is near her turn to give a speech, she recounts her past experiences with her main rival Buffy and she frets over her attempt to win the captaincy of the cheerleading squad. Even as I write this review I still cannot say exactly why this book captivated me, I can only summarize the plot and say that it kept my attention throughout.
______________
Maddy, a fourth grader who loves to read!,
11/13/2006

My teacher read this book to my class and she even laughed so hard she almost wet her pants. Mrs.Rocheleau came to my class and she was awesome! I LOVED this book and so did everyone in my class! My mom already ordered book two for me and I can't wait for it to get here! Go get the book it was so funny!
Tina, an avid reader,
08/17/2006

Wonderful!! Fantastic!!
This is a wonderful book, riveting and entertaining. Rarely do you find a book for kids anymore that is fun to read without all the violence and immorality. This is a sweet book with rich characters that will definitly have you laughing out loud!! I know I did!! My kids and I can't wait for the next one!!
Marnie, A fan of Nicole Rocheleau!, July 13, 2006,

I Love this book!
This book brought me back to my youth. I felt I really connected with all the characters and felt their personalities shine through. It reminded me of Judy Blooms books where you get emersed with the characters. I laughed so hard and couldn't put it down. This book needs to become a sitcom- so fun. I can't wait for the rest of the series! :)
Bookviews by Alan Caruba, June 2006

Nicole Rocheleau has concluded that kids are not being allowed to just be kids anymore and often strive to be adults too early, missing out on the joys of youth. I agree. Too many books for this age group are preachy and about various problems. So she has written a delightful book for those 9 to 12 in age, "Ollie Ollie in Come Free", starring Emmy Bolan, a typical 12-year-old girl whose insecure, funny, always trying to fit in, and has a flare for the adventurous. Emmy just wants to have fun and so will the reader. This is a debut for this author and a very good one indeed.
Well Worth the Read!!!

A Reviewer and an Educator, May 18, 2006,

| | |
| --- | --- |
| | As an educator and a youth volunteer, I like knowing what's out there for young readers. The title of this book caught my eye as I remembered playing hide-and-go-seek and hearing the call 'Ollie Ollie In Come Free' to alert all of us who were still hidden to come on in. Once I opened up the cover, I found it difficult to put the book down. The characters came alive in my mind. I would finish one chapter immediately wondering where the story was going and had to keep on reading! Ms. Rocheleau does a fabulous job of placing the reader into the mind of a pre-teen and takes us on an unforgettable journey through the quirky, heart-touching, mysterious and laugh-out-loud moments of Emmy Bolan and her friends Ryan and Gavin. I thoroughly enjoyed the book! I grew up in the 80's reading Judy Bloom and saw how Ms. Rocheleau offers a similar depth and enjoyment to today's young readers. This book reminded me of those awkward yet exciting years of becoming a teenager...not that I want to revisit those years now, but its fun to reminisce. I would highly recommend this book to any young reader knowing that Mom, Dad, siblings, teachers, youth volunteers, etc. would enjoy it as well!!! I'm already looking forward to the sequel! |
TCM REVIEWS:
Ollie Ollie in Come Free!


Nicole Rocheleau
ISBN: 1-421-0433-5
Fiction, Young Adult
Reviewed by Olga Sprague, April 2006

As spirited as the beloved childhood jingle, when all are safe and free to
just be, Ollie Ollie in Come Free! is Nicole Rocheleau's first book in a
promising middle reader series featuring strong, modern female characters
and heartening relationships between adults and children.

Daring, fun, and awkward, 12 year-old Emmy Bolan's stories are based on her
knack of finding situations. Shortly facing a new school year and
contemplating her crush on the new boy next door, Emmy, often with her best
friend Ryan in tow, takes you from tree-tops to emergency rooms, filling
each encounter with quick humor, good solutions and positive feelings.

Set in modern day, upper-middle class America, and written in a simple,
youthful voice, Ollie Ollie in Come Free! is a read-aloud choice for parents
and for 9-12 year old readers wanting to enjoy a quick, fun story about
growing-up.
"Ollie Ollie in Come Free!"


Mrs. Jane Weber Library-Media Specialist
Arizona (4/15/2006)
| | |
| --- | --- |
| | Life with Emmy Bolan is not always what one expects. You never know what is around the corner. Emmy's friendship with Ryan is especially heartening, as good friends are always there when you need them and never let you down. This funny, quick moving story will motivate all to read on to see what will happen next. I look forward to see where Emmy's next adventure will take her... |
Ollie Ollie In come free


Alfred
New York (4/11/2006)
| | |
| --- | --- |
| | Book was suggested by a friend for my grandchild. I purchased it, read it and purchased five more for each grandchild. Great book |
Ollie Ollie In come free


Rene
Arizona (3/23/2006)

A throughly enjoyable book for the whole family to read. Tells for a girl who is shy, yet willing to be an adventurer. Very funny!

A Grandfather, March 31, 2006,

Ollie Ollie in come free
I throughly enjoyed reading a book about an adventurous young girl to my granddaughter, who would not let me even stop for a glass of water. This book is very enjoyable, and it has you visualizing all she is doing. Too often books are written which limit family participation - this book calls them together.
David, someone who loves to read, March 14, 2006,

Ollie Ollie in Come Free! was a fantastic book! It was so easy to read and I couldn't put it down. The characters are very funny and the situations they encounter are hilarious, especially the 'poop-soaked shoe'. I almost died laughing! If you are looking for a book that perfectly captures the childhood years and all the awkward situations in it, this is it! This is a MUST READ and I highly recommend it! And, I read that Ollie Ollie in Come Free! is the first book in 'The Emmy Bolan series'. So there will be more to come. Great! Bound to be a Classic!
BUY YOUR COPY NOW AT BARNES AND NOBLE: